Workplace Bullying & Abusive Conduct: The Other Harassment
$499.00
In Stock
Complies with Section 12950.1, California Government Code required as of 1/1/2015
Bullying & Abuse: The Most Common Forms of Harassment
Twenty-seven percent of adult Americans report being bullied at work; an additional 21% witness it (an est. 65 million workers) and vicariously are made miserable (according to the scientific national 2014 WBI U.S. Workplace Bullying Survey). It's time to examine the real costs for employees (health consequences) and for employers (unwanted turnover, absenteeism, lawsuit or complaint settlements, workers comp and disability claims).
Training by the leading authority
We know time is valuable. Educate all employees with this 20 min. training. Distinguish abusive conduct from lesser forms of mistreatment that do not cause the same level of disruption in productivity.
This DVD video training is appropriate for non-supervisory employees or managers. Produced in August 2014.
It is the ideal video to accompany sexual harassment training. Can be streamed for online viewing by employees.
Dr. Gary Namie, recognized as North America's foremost authority on workplace bullying, personally introduces the topic, citing the latest prevalence statistics and the newest and most relevant research findings.
Workplace Bullying & Abusive Conduct: The Other Harassment

DVD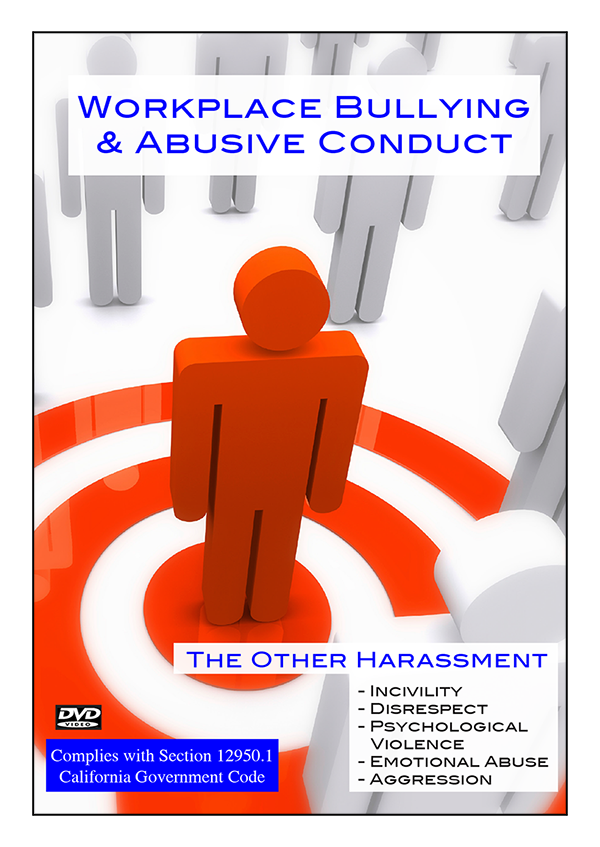 Program Topics
1. The Phenomenon

2. Examples

3. Perpetrators

4. Who Gets Bullied

5. Health Impact

6. Impact on Organizations

7. What Employers Can Do

Lessons for viewers of the DVD
Workplace Bullying & Abusive Conduct: The Other Harassment
– Everyone can learn to recognize bullying when it happens

– Bullying has negative consequences for both individuals and the organization

– Bullying harms employee health

– Unfettered bullying affects the "bottom line" & undermines the mission

– Bullying prevents employee engagement

– Bullying prevents productivity

– Bullying is unethical, but rarely illegal

– The majority of bullies are bosses

– With widespread recognition of the phenomenon by managers and non-supervisory employees, leadership can be convinced to take corrective steps

– With recognition, comes an eventual intolerance of jerks

– Bullying thrives on coerced silence, secrecy & sponsorship

– Employee education breaks the silence and launches the dialogue about solutions

– Knowing that there are alternatives to doing nothing or fear empowers all employees

– An aware organization is ready for systemic solutions




Workplace Bullying & Abusive Conduct: The Other Harassment is meant to accompany the books The Bully-Free Workplace and The Bully At Work, available at all major retailers.