Work Doctor: A Primer for Managers
$350.00
In Stock
Employers' Response to Bullying
According to a Workplace Bullying Institute survey, only 3% of employers address bullying with a comprehensive methodology. However, most employers are not prepared to prevent and correct bullying using traditional solutions. Our extensive consulting experience has proven that good employers can reduce bullying's negative impact with the bullying-specific tools. That is why in 2011 we wrote our third book The Bully-Free Workplace. This video training educates managers and supervisors about positive, pragmatic steps they can take right now in their organizations.
Training Tailored for Supervisors and Managers
We know time is valuable. We have divided our 2-hour training for managers into two convenient 1-hour sessions. These videos are specifically aimed at first-line supervisors, mid-level and senior managers. Instruction is different from the shorter introductory Raising Employee Awareness DVD. Most of the advice in A Primer for Managers does not apply to non-supervisory staff.
Workplace Bullying: A Primer for Managers

, 2-DVD Set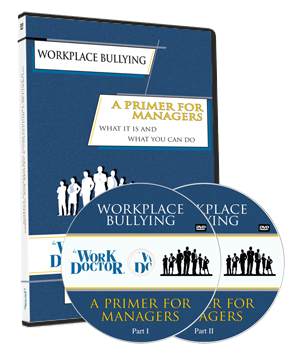 Program Topics
Disc 1 — Part I, 56 min.
1. Introduction
2. The Phenomenon
3. Perpetrators
4. Who Gets Bullied
5. Why Bullying Happens
Disc 2 — Part II, 58 min.
1. Impact on People
2. Impact on Organizations
3. What Managers Can Do
4. The Employer Solution
5. U.S. Legal Reform
Lessons viewers of the
A Primer for Managers

2-DVD Set will learn




– Everyone can learn to recognize bullying when it happens
– Bullying has negative consequences for both individuals and the organization
– Bullying harms employee health
– Unfettered bullying affects the "bottom line" & undermines the mission
– Bullying prevents employee engagement
– Bullying prevents productivity
– Bullying is unethical, but rarely illegal
– The majority of bullies are bosses
– Managers can learn to prevent or stop it
– With widespread recognition of the phenomenon by managers and non-supervisory employees, leadership can be convinced to take corrective steps
– With recognition, comes an eventual intolerance of jerks
– Bullying thrives on coerced silence, secrecy & sponsorship
– Employee education breaks the silence and launches the dialogue about solutions
– Knowing that there are alternatives to doing nothing or fear empowers all employees
– An aware organization is ready for systemic solutions





A Primer For Managers is meant to accompany the book The Bully-Free Workplace, available at all major retailers.